Artist Statement and CV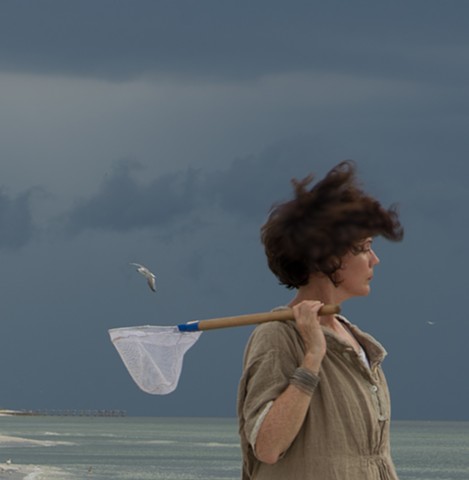 Patricia Christakos is a visual artist and writer who uses photography and moving image to explore mythology, domesticity and other gendered tales. She received her MFA in Media Arts from Maine Media College, Rockport, Maine in 2020 and lives in central New York and southwest Florida. Her work has been exhibited nationally and is held in several private collections.
artist statement
I covet overlooked physical and emotional evidence—traces, memories, and assumptions—of lived experiences. Using found and original footage my work honors and embraces time as a malleable and receptive container for my decidedly feminine, slightly subversive, personal yet universal excavations. Elements of discovery, empowerment, and seduction appear frequently. As a bricoleur, I collect the unexpected.
photo: Patricia Christakos, Fishing, 2013.
CV
education
MFA in Media Arts, Maine Media College, Rockport, Maine [May 2020]
BS Magazine Journalism, Newhouse School of Public Communications at Syracuse University [May 1980]
select exhibitions, awards and publications
Films and Videos
Sleepover Secrets, experimental video
Official Selection, LA Independent Women Film Awards, July 2021
Finalist, Austin International Art Festival, April 2021
Snow Job, experimental micro-short video
Official Selection, MicroMania Film Festival, September 2021
Winner: Best Experimental Short, South Florida International Film Festival, April 2021
Photography and Installations
2021 Fresh Perspectives. Southeast Museum of Photography, Daytona State College, Daytona Beach, Florida. The Sleepover, September 28- December 16
2021 Emerge Awards. Midwest Center for Photography. Wichita, Kansas. April
2021 Art after Dark. Boca Grande, Florida. The Story of the Slips, video projections. March (solo)
2020 Nostalgia. Midwest Center for Photography. Wichita, Kansas. Gallery exhibition/ with outdoor projections, November
2020 Shadow and Light Magazine "Color it Red", Spring 2020 issue
2019 The Shape of Things. Praxis Gallery. Minneapolis, MN
2019 Portal. A Smith Gallery. Johnson City, Texas. Director's Award
2019 Women's Stories. Midwest Center for Photography. Wichita, Kansas
2019 Color. The SE Center for Photography. Greenville, North Carolina
2018 Lens 2018. Perspective Gallery. Evanston, Illinois
2016 The Curated Fridge. Somerville, Massachusetts
2015 Punctum: 20th Annual Exhibition. Photographic Center Northwest. Seattle, Washington
2015 Posies for Emily and Other Dreamers. Andrew and Carol Weller Gallery. Youngstown, Ohio. (solo)
2014 Joyce Elaine Grant Exhibition. School of the Arts, Texas Woman's University. Denton, Texas
2013 IDentity. Center for Fine Art Photography. Fort Collins, Colorado
publications and artist talks
Fresh Perspectives, Artist Talk, Southeast Museum of Photography [October 2021]
Shadow and Light Magazine Color It Red [March/April 2020]
Photography for Dreamers, Andrew and Carol Weller Gallery, Youngstown, OH [June 2015]
Photo Adventures for Fellow Travelers, Boca Grande, FL [April 2015]
Word Dance Magazine [Spring 2011]